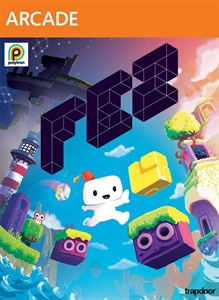 Fez is a platform game developed by independent software developers Polytron. The game was initially announced by its creator, Phil Fish, on TIGSource.com on July 17, 2007. It was later announced that the game would come to Xbox Live Arcade in early 2010, but it was pushed back. The game was released on April 13, 2012 for Xbox Live Arcade. More platforms are being considered.
Typical gameplay screenshot of Fez. Fez features 2D/3D perspective shifts in a manner similar to Super Paper Mario and Crush. The use of Escher-like optical illusions also predominates gameplay in a manner similar to Echochrome. Gameplay is similar to that of Neutronized's Sky Island, a Flash game inspired by Fez, released in 2011.
Reception
Edit
Fez won the "Excellence in Visual Art" award at the Independent Games Festival in 2008. The game was also nominated for the "Design Innovation" award.
Fez appeared at PAX Prime 2011 as one of the PAX 10.
Fez won "Best In Show" at IndieCade in 2011.
A demo of Fez was shown on 31 January, 2012 at the International Game Developers Association Montréal DemoNight.
Fez won the Grand Prize at IGF 2012.
Fez has also received many high review scores including IGN giving the game 9.5/10 and many other websites giving perfect scores.
In other media
Edit
Fez is one of the games featured in Indie Game: The Movie.
External links
Edit